Organizations are looking for ways to improve engagement and connection with their patients and their customers. Many are finding that consumers like automated communication (text, email and voice). Yet if it is poorly designed or if it hinders the customer from achieving their goals (Checking a balance, getting a lab result, making a payment, or scheduling an appointment) look out that patient/customer is going to look elsewhere.
I just ordered some Razor Blades form Harry's on line.  I had been hearing about them for some time (quality, cost, and convenience).  What struck me was the automated email reply I received from them. We know it is automated but there is a bit of whimsy and humor in it which makes it feel more personal.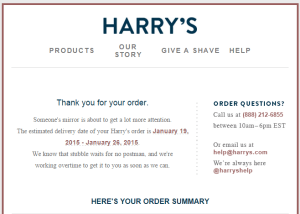 Some things to consider as you design your automated communications with your Patient/Customer.
What are they calling for?

An appointment
A lab result
To check a balance
To request a document

How will you verify their identity (HIPAA)
What systems need to connect to facilitate the call? Can I connect the phone to the accounting system?

Can I press a key, enter my account number and request a statement be mailed (The answer is yes)
If I run into difficulties can I opt to speak with a representative easily (This should be)
Technology can help us facilitate a lot of activity even routine communications. But and this is big, if it is not designed with the customer in mind it will backfire.
Take Good Care.