As a communication and leadership coach, I often work with people of have to give a presentation in front of others and they are afraid. They loo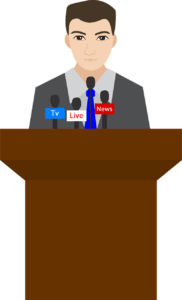 k at people that they see on stage that deliver so well and think, "I can never do that." The famous actor Laurence Olivier used to vomit all the time before he went on stage. And he is acclaimed as one to the legendary best on stage.
Having been a Toastmaster for over 17 years and having mentored and coached countless presenters here is what I can tell you about stage fright:
If you are not a little nervous you don't care. As a presenter we want to care deeply about what we deliver to our audience. It doesn't matter if it is an inspirational speech or a presentation to the PTA, if it matters we should feel a little nervous.
As a member of Toastmasters and as an international coach and speaker, I can tell you we are all nervous. Sweaty palms, racing heart, dry mouth. And we know it won't kill us so we know we can get out and deliver the message that is important for our audience to hear.
Those speakers that look like they can just wing it, I promise you they have practiced. Sure some of us are pretty good at impromptu speaking. But most of us have rehearsed that dinner toast, or funeral eulogy or briefing to the boss.
Speaking of practice many speakers are part of an organization like Toastmasters or the National Speakers Association and they have a chance to practice the art and science of communication and speaking. The techniques of giving a good presentation can be learned:
Identify what the audience cares about.
Show them a path towards that or a solution.
Organize your talk into 3 – 5 big sections or ideas.
Provide back up, data and stories to support those ideas.
Leverage delivery skills like vocal variety, gestures and visual aids to add impact
Practice/Practice/Practice.
I have watched new speakers with shaking legs and notes for every word, blossom into very powerful and impactful speakers. They just realized that those butterflies in their stomach were not going to carry them away.
If you wonder if you or your team can benefit from better communication skills for accountability, engagement and performance, schedule a call with John to explore the possibilities. CALENDAR