I have heard countless managers tell me that they cannot find good people. "They don't have a good work ethic, they complain, they aren't engaged and they aren't productive". You have heard it too. And then I have worked with other teams that are engaged, where work is getting done, it is meeting standards and they are growing.  What is the difference? There are probably a few. The one we are focused on here is leadership communication.
What I have observed is that performing teams have created a communication structure and agreements around how and what will be communicated. As a result they become aligned with the vision and goals of the company and their own personal goals and aspiration's.
Typically it is a combination of structured 1 on 1 meetings and team meetings. One of my first observations was the daily huddle that Joe Tye speaks of in his book the Florence Prescription.
This is where the team huddles for five minutes first thing in the morning and has a brief huddle about what the day is going to look like and they have a brief conversation around one of the team values. This is led by a different team member every day. It sets the tone for the day. And the neuroscience will tell you that getting every one speaking and thinking about the same value will light up the same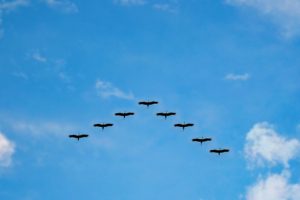 portions of their brains. Talk about Alignment.
Then there are team meetings. I was at a healthcare networking event Wednesday, and had a conversation with couple of hospital managers who were lamenting "death by meeting." And I think many can relate. What I have observed with my clients is that when a meeting has a purpose, a structure and repetition they become much more efficient, and productive.
For example in sales there are pipeline meetings where the sole purpose of the call is for the team to present the deals that are in play and their status. And it gives the leader a chance to validate and verify that the deals are real so that they are accurate in their forecasts.  In a healthcare setting in the Revenue Cycle it might be to have each rep discussing the portfolio of accounts they are working, what the status is (is the insurance company paying timely or are they denying a certain type of claim). When I was in the collection industry we had "daily call the number" meetings. What did you promise yesterday for today, how much did you collect, what are you going to deliver tomorrow. This gives the leader a chance to validate and verify so that they can provide the executives with a more certain forecast.
I have also had several clients over the years that have regularly scheduled one on ones with either their supervisor or their direct reports. And believe it or not I have seen others that only have a formal one to one annually if at all. Care to guess which organizations have better team engagement? The number one reason people leave organizations according to Gallup is the relationship with their boss. What better place to develop a relationship than a regular one to one meeting.
Instead of calling meetings to fight the hot spots that are popping up from the fire, leaders can slow down, and create a structure and a rhythm to their communications and put out the fires. They can do this by deciding what message and information is important to be communicated up and down the organization, what needs to be measured. Then they can create structure to facilitate this in teams and one on one. I have yet to see a team that deploys this kind of discipline fail to achieve improved results.